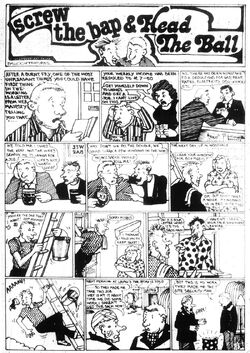 Screw the Bap and Head the Ball was a full-page comic strip that appeared in the Shankill Bulletin, a community paper published in the Shankill area of Belfast, from its launch in 1978 until at least 1982. It featured a pair of young wasters whose mishaps and adventures commented on urban issues of the day, from after-hours drinking and glue-sniffing, to housing, employment and the dole, to elections and run-ins with the police. It was initially drawn by John Kindness. Davy Francis, who drew regular cartoons for the Bulletin, took the strip over in 1979, although Kindness continued to draw it occasionally. A Screw the Bap and Head the Ball annual, collecting strips from the Shankill Bulletin, was pubished in 1979.
Ad blocker interference detected!
Wikia is a free-to-use site that makes money from advertising. We have a modified experience for viewers using ad blockers

Wikia is not accessible if you've made further modifications. Remove the custom ad blocker rule(s) and the page will load as expected.