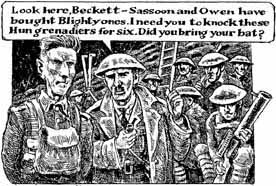 Shem and Sam is a comic strip about the experiences of James Joyce and Samuel Beckett, doomed to live together forever in a bedsit on the South Circular Road, written by Stephen Walsh and drawn by Brian O'Toole. The first two installments, about Beckett's cricketing exploits in the trenches of World War I and Joyce's drunken stumbling around the Wild West, were published in The Yellow Press and Inkling magazines. The third adventure, in which the twosome accidentally go on holiday to Ma and Pa Ubu's guesthouse, has only been published on the web.
External links
Edit
Ad blocker interference detected!
Wikia is a free-to-use site that makes money from advertising. We have a modified experience for viewers using ad blockers

Wikia is not accessible if you've made further modifications. Remove the custom ad blocker rule(s) and the page will load as expected.