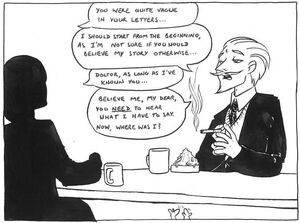 Shmoo is a 24 hour comic created on the Belfast 24 Hour Comics Day event in October 2010 by writer Glenn Davidson and artist Ann Harrison, about a mysterious drug that has been used to manipulate the public since the 18th century. It can be read online on Tales of the....
External links
Edit
Ad blocker interference detected!
Wikia is a free-to-use site that makes money from advertising. We have a modified experience for viewers using ad blockers

Wikia is not accessible if you've made further modifications. Remove the custom ad blocker rule(s) and the page will load as expected.