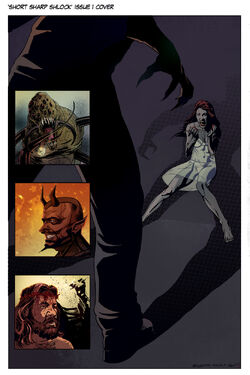 Short Sharp Shlock is a 2011 comic featuring four stories, all written by Dave Hendrick and drawn by four different artists, David O'Sullivan, Zak Kinsella, John Cullen and Pete Marry, with a cover by Eclectic Micks Stephen Mooney, Stephen Thompson, Will Sliney and Declan Shalvey and coloured by Jordie Bellaire. It is available from the Dublin Forbidden Planet.
Ad blocker interference detected!
Wikia is a free-to-use site that makes money from advertising. We have a modified experience for viewers using ad blockers

Wikia is not accessible if you've made further modifications. Remove the custom ad blocker rule(s) and the page will load as expected.