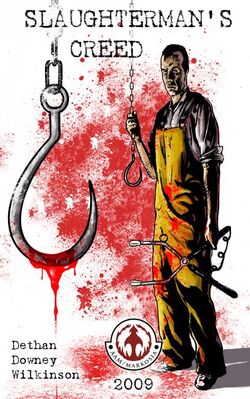 Slaughterman's Creed is a graphic novel written by Cy Dethan, drawn by Stephen Downey, inked by Andy Brown and published by Markosia in 2011.
Sidney is a professional killer working for Big Lenny Addison, a London ganglord specialising in human trafficking. He is almost completely uneducated except in his family's trade – at which he is an unparalleled expert.
When he is called upon to breach his code and bring a pregnant woman to slaughter, Sidney's world is changed forever. Betrayed by those he has served his whole life, the Slaughterman embarks on a bloody vendetta - determined to bring Addison's entire monstrous empire to the blade.
External links
Edit
Ad blocker interference detected!
Wikia is a free-to-use site that makes money from advertising. We have a modified experience for viewers using ad blockers

Wikia is not accessible if you've made further modifications. Remove the custom ad blocker rule(s) and the page will load as expected.