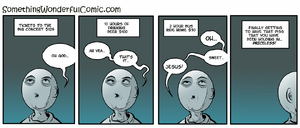 Something Wonderful ("a graveyard for ideas that shouldn't be let out") is a cynically humourous daily webcomic by Tommie Kelly, which from April to August 2010. Two minicomic collections, Something Wonderful Corrupts Young Minds and Something Wondeeful Kicks You in the Head, were published during the year, and a complete collection, Something Wonderful Eats Babies, was published in November.
External links
Edit
Ad blocker interference detected!
Wikia is a free-to-use site that makes money from advertising. We have a modified experience for viewers using ad blockers

Wikia is not accessible if you've made further modifications. Remove the custom ad blocker rule(s) and the page will load as expected.