Sorry I can't take your call right now but I'm off saving the world
Talk

0
Share
Ad blocker interference detected!
Wikia is a free-to-use site that makes money from advertising. We have a modified experience for viewers using ad blockers

Wikia is not accessible if you've made further modifications. Remove the custom ad blocker rule(s) and the page will load as expected.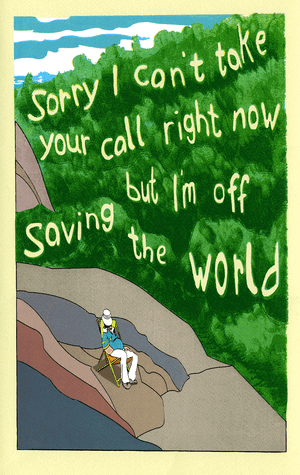 Sorry I can't take your call right now but I'm off saving the world is an anthology published in 2008 by Cliodhna Lyons as a tribute to her father, Conor Lyons, and a fundraiser for the Irish international development charity GOAL, for whom he had worked in Sri Lanka. The title, and the theme of the anthology, was taken from the message Conor would leave on his answering machine when he was working abroad. Sales of the book have to date raised over 5000 euro for GOAL.
Contents are:
Screen printed cover and several monoprints from the series MFD by Cliodhna Lyons
"Cricket in a bag" by Catherine Moore and Tomm Moore
"Planting" by Christopher and Ellen Ruggia
"Antiques Roadshow" by Joe Decie
"Interview" by Alan Nolan
"Negative" by Adam Kaiser
"Superdad" by Liam Geraghty and Philip Barrett
"Superdog" by Johnny McMonagle
"Catchweaver" by Lauren Chaikin
"Intergalactic Peace Keepers" by Carol Younghusband and Angus Day
"The Visit" by Malte Knaack
"The Living Proton" by Gar Shanley and Cathal Duggan
"Free Lunch at McDiddles" by Sarah McIntyre
"One Hundred Years" by Loo Wang
"Phone Call" by Lee Thacker
"You don't have to be a superhero to save the world" by Erik Craddock
"Zero" by John Robbins
"Paramedic" by William Ibanez
"Ring ring click" by Ale Mercado
"Telemarketing" by Mallory Smith
"Monkey" by Will Kirkby
"Signal" by John Maybury
"The Missing Piece" by Paddy Lynch
"Saving the world one day at a time" by Bridgeen Gillespie
"Poem" by Neil Brideau
"Dog Man saves the world" by Jenny Linn-Cole
External links
Edit