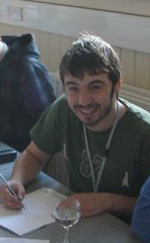 Stephen Downey (b. 6 October 1984) is an artist from Belfast. He started out lettering Malachy Coney's art on Ouija Board, Ouija Board and Good Craic Comics in 2003, and drew short strips for Small Axe in 2005. He drew the dark fantasy graphic novel Cancertown, written by Cy Dethan and published by Insomnia Publications in 2009, and has pencilled a second book by the same writer, Slaughterman's Creed, inked by Andy Brown, published by Markosia in 2011. Around this time he drew independent, critically acclaimed Absence, adapting Andy Luke's original script.
Stephen draws "Bliain a hAon" ("year one"), a school strip written by Finnbar Christie, for the Irish language anthology Rí-Rá, and he is one of the founders of the online multimedia anthology Tales of the..., contributing comics, illustrations and a short film. He is currently working on a number of projects from Atomic Diner: the three-part series Jennifer Wilde, written by Maura McHugh (2011-), the forthcoming one-shot The Black Scorpion (2012), and the miniseries Noe the Savage Boy (2012-), as well as a two-part "Black Ops Xtreme" story, with writer Richmond Clements and colourist Gary Caldwell, for Strip Magazine.
On 28 September 2014, it was announced Stephen would be drawing Turok: Dinosaur Hunter for Dynamite Comics[1], along with fellow Irishman Ruairi Coleman.
External links
Edit
Online reference
Edit
Wikia: Doctor Who
Cite error: <ref> tags exist, but no <references/> tag was found