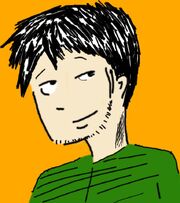 Stephen Kearney is a comicbook artist and inker from Galway, Ireland. He recently finished his first graphic novel for Quiet Hell Comics called The Man with No Libido with writer Jason Browne and letterer Billy Browne. Recently he has contributed to a new fanzine called Flip's Sake! set-up by Galway comicbook artists to celebrate Free Comic Day 2011 by drawing the cover.
Ad blocker interference detected!
Wikia is a free-to-use site that makes money from advertising. We have a modified experience for viewers using ad blockers

Wikia is not accessible if you've made further modifications. Remove the custom ad blocker rule(s) and the page will load as expected.