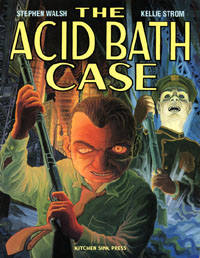 Stephen Walsh is an Irish writer, of comics and other things. He wrote the Harvey Award-nominated graphic novel The Acid Bath Case, drawn by Kellie Strøm and published by Kitchen Sink Press in 1992, and Shem and Sam, about James Joyce and Samuel Beckett, drawn by Brian O'Toole, which appeared in The Yellow Press and Inkling. A short piece, When They Sound That Last All-Clear, illustrated by Guy Davis, appeared in Dark Horse's book 9:11- Artists Respond in 2002. He has written numerous titles for DC Thomson's Commando series of adventure stories and more recently has completed two graphic novels with artist Keith Page - London Calling, published in October 2010 by Timebomb Comics, and The Iron Moon, published in spring 2011 by Print Media. Forthcoming work includes Paint It Black, which Keith Page has recently finished drawing, Plunger's Last Case, The Emperor Sweeney and Squadron of the Screaming Damned, a follow-up to London Calling.
Outside comics, he co-wrote the feature film How Harry Became A Tree (2002) directed by Goran Paskaljevic, as well as the documentaries Patrick Kavanagh - No Man's Fool and John Henry Foley, Sculptor of Empire, both directed by Sé Merry Doyle, with whom he has recently completed the feature documentary John Ford- Dreaming The Quiet Man. The film premiered at the 2010 Cork Film Festival and was released in Irish cinemas in June 2012. Another feature film, Where The Sea Used To Be, directed by Paul Farren, previewed at the 2010 Galway Film Fleadh and won the award for Best Feature Film at the inaugural Fingal Film Festival in March 2012, as well as the Van Gogh award for best first-time director at the 2012 Amsterdam Film Festival.
External links
Edit
Online reference
Edit
Ad blocker interference detected!
Wikia is a free-to-use site that makes money from advertising. We have a modified experience for viewers using ad blockers

Wikia is not accessible if you've made further modifications. Remove the custom ad blocker rule(s) and the page will load as expected.