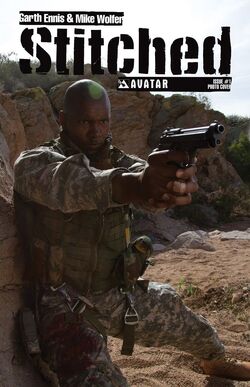 Stitched is a 2011 short film written and directed by Garth Ennis, and a comic based on it written by Ennis and drawn by Mike Wolfer, published by Avatar Press. In it, three American soldiers, stranded in the desert of Afghanistan after their helicopter crashed, must survive against both the Taliban and vicious, stitched-together undead figures. The film, starring Tank Jones, Lauren Alonso and Kate Kugler, premiered at the San Diego Comic Con on 21 July 2011. The first issue of the comic was published in November the same year.
External links
Edit
Ad blocker interference detected!
Wikia is a free-to-use site that makes money from advertising. We have a modified experience for viewers using ad blockers

Wikia is not accessible if you've made further modifications. Remove the custom ad blocker rule(s) and the page will load as expected.