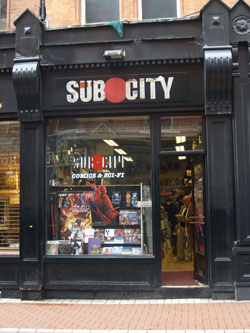 Sub City is a comic shop owned an run by Rob Curley, with branches in Dublin and Galway.
The main Dublin branch is at 2 Exchecquer Street, Dublin 2. There was also a branch at Unit 5, Smock Alley, West Essex Street, but it closed in 2010.
The Galway branch is at Corbett Court, Eyre Square Shopping Centre.
Ad blocker interference detected!
Wikia is a free-to-use site that makes money from advertising. We have a modified experience for viewers using ad blockers

Wikia is not accessible if you've made further modifications. Remove the custom ad blocker rule(s) and the page will load as expected.