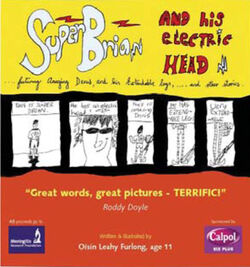 Super Brian and his Electric Head is a comic created by Oisín Leahy Furlong, then eleven years old, in 2005. It contains four stories, including "Super Oh and Super Doo", feauring superhero versions of Oisín and his younger brother Dualtagh, who made a full recovery from meningococcal septicaemia contracted when he was four months old. It was sold at Boots and Unicare pharmacies in the Republic of Ireland, and all proceeds went to the Meningitis Research Foundation.
Ad blocker interference detected!
Wikia is a free-to-use site that makes money from advertising. We have a modified experience for viewers using ad blockers

Wikia is not accessible if you've made further modifications. Remove the custom ad blocker rule(s) and the page will load as expected.