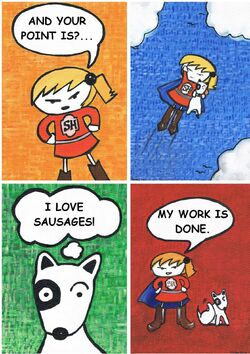 Superhilbo! is a pint-sized superheroine created by Hilary Lawler.
Together with canine partner, Roast Beef, her mission is "saving the world in time for sausages",
Superhilbo first appeared in "Kitty Kapers" in Longstone Comics #1 in October 2008. A second story, "Thar She Blows", featured in Longstone Comics #2 in May 2009, and the first issue of her own comic was launched at the 2D Comics Festival in June 2009. A second issue is in the pipeline. She made her Irish-language debut in issue 6 of Splunc! in 2011.
External links
Edit