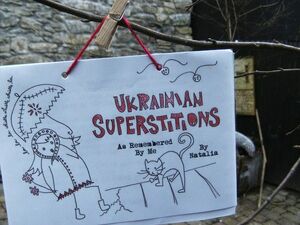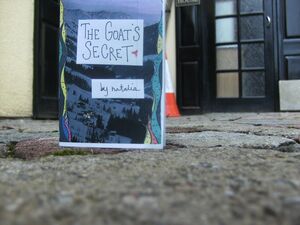 Sweet Olive Misprint is the name given to a series of works by Natalia (last name unknown), from County Leitrim. The artist produces music, badges, comics and zines, though much of her zine work shares common characteristics with comics - the blend of words and pictures, juxtaposed in sequence for a narrative.
Much of Natalia's work is 28-30 pages long, printed on 50g paper and finalised at A6 or A5.
Natalia has regularly appeared at Irish independent comics and zine fairs. Her defunct Sweet Olive blog featured a review of Katie Blackwood's The Linguistic Goat.
Sweet Olive Misprint Booklets
Edit
#1 - Sweet Olive and Other Stories
Contains the tales 'Sweet Olive', 'Fairytale' and 'New Orleans'
# 2 - The Tomb Keeper : A Biography in Papercuts
Further recollections of the author's time in New Orleans, using paper-cut and text, alternating with consistent stylised line drawings[1].
# 5 - The Goat's Secret - A Tale of Love
A fold-out to A4 colour strip-zine with captions and characters created by hand, against cut-up back-drops from National Geographic[2].
# 6 - Ukrainian Superstitions As Remembered By Me "I'm not actually sure if the superstitions that I remember best are purely Ukrainian or rather a mix of Ukrainian, Soviet and Jewish luck, curses and customs that my parents and grandmother brought over on the boat to American with the pots and the pillows and the rest. But no matter where they came from,I still follow most of them without wanting to or deciding to." - from the introduction. Handbound with string[3].
# 7 - How To "Wait Til I Tell Ya" For Yourself An edu-comic coming from one-to-one knowledge sharing after an event run by an arts/education group, HURL[4]. The work[5] was made available at the Dublin Zine Fair 2012.
References
Edit
Ad blocker interference detected!
Wikia is a free-to-use site that makes money from advertising. We have a modified experience for viewers using ad blockers

Wikia is not accessible if you've made further modifications. Remove the custom ad blocker rule(s) and the page will load as expected.