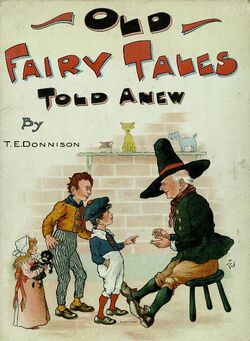 Thomas Edward Donnison (b. Ireland or Liverpool, c. 1861; d. 1903) was a joke cartoonist and illustrator. Educated at Rugby School, he became a solicitor, taking art lessons in his spare time. Eventually he became a full-time cartoonist and illustrator, working for the Boy's Own Paper, Fun, Longbow, Puck, ;;Judy and Moonshine, and drawing "pre-history" cartoons in To-Day similar to those of George Morrow and E. T. Reed in Punch.
He published three books of cartoons, The Jaw-Cracking Jingles (1899), Odds and Ends and Old Friends (1902) and Pure Fun for Boys of All Sizes (1903). He also wrote and illustrated a picture book, Old Fairy Tales Told Anew (c. 1900).
References
Edit
Mark Bryant, Dictionary of Twentieth Century British Cartoonists and Caricaturists, Ashgate, 2000, p. 61
[www.scoop-database.com/bio/donnison_thomas_edward Bio at Scoop!] (subscription required)
External links
Edit
Ad blocker interference detected!
Wikia is a free-to-use site that makes money from advertising. We have a modified experience for viewers using ad blockers

Wikia is not accessible if you've made further modifications. Remove the custom ad blocker rule(s) and the page will load as expected.