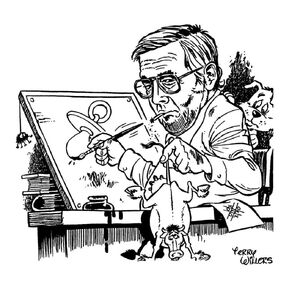 Terry Willers, (b. Barnet, north London, 1935;[1] d. Rathdrum, Co. Wicklow, 9 November 2011) started his career drawing for Disney in London at the age of 15, probably drawing comic strips for Mickey Mouse Weekly. He also drew "Tich" for TV Comic (1952-53) and "Zip" for Jack and Jill (1959).
In the 1960s he started working with the Martin Toonder studios in the Netherlands, drawing newspaper strips including Panda, Tom Poes and Kappie. He drew comic strips for newspapers in five different countries, and also filled in for Leo Baxendale on strips like "General Nitt and his Barmy Army" and "Georgie's Germs" for the British comic Wham! He moved to Ireland in the 1960s, living first at Carrigower, then Rathdrum, both in County Wicklow.
In Ireland, He drew cartoons for newspapers including the Farmer's Journal, Sunday Independent, Evening Herald and Wicklow People, as well as working on TV shows like Halls Pictorial Weekly (for which he won the Jacob's Award in 1975) and the Mike Murphy Show. From 1992 until at least 1998 he, alongside fellow cartoonist Martyn Turner, organised the Guinness International Cartoon Festival in his hometown of Rathdrum.
He contributed to The Yellow Press in the early 90s, and created "Minder Bird" for The Beano in 1995. He also illustrated several books, including Twelve Days Of Chaos (with Frank Kelly, 1997) and Stop Howling At The Moon (2007).
↑ Steve Holland, Terry Willers (1935-2011), Bear Alley, 15 November 2011. The Wicklow News says he hailed from Bury St. Edmunds in Suffolk.
References
Edit
Online reference
Edit
Ad blocker interference detected!
Wikia is a free-to-use site that makes money from advertising. We have a modified experience for viewers using ad blockers

Wikia is not accessible if you've made further modifications. Remove the custom ad blocker rule(s) and the page will load as expected.