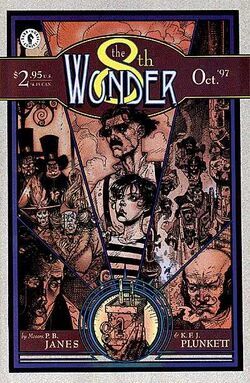 The 8th Wonder is a steampunk comic written by Peet Janes and drawn by Kilian Plunkett. Originally serialised in Dark Horse Presents #85-87 in 1994, it was collected in a single edition in 1997.
It's a time of tremendous promise. Technological progress is moving at an amazing clip, and a man can either make a name for himself or get lost in the shuffle. Dr. Agrine has a new invention that should help him achieve the former. But Lord Parsons has a plan to subject Agrine to the latter.
External links
Edit
Online reference
Edit
Ad blocker interference detected!
Wikia is a free-to-use site that makes money from advertising. We have a modified experience for viewers using ad blockers

Wikia is not accessible if you've made further modifications. Remove the custom ad blocker rule(s) and the page will load as expected.