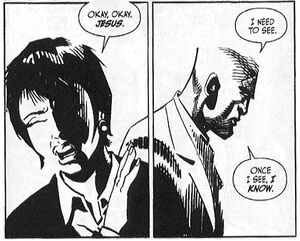 The Atheist is a horror comic book created by writer Phil Hester and artist John McCrea, first published in April 2005. The central character is Antoine Sharp, an investigator nicknamed "the Atheist" for his uncompromising scepticism.
Two miniseries of four issues each were published. The first, in which Sharp and Canadian agent Melissa Nguyen investigate the dead returning and possessing the bodies of the living, was published by Image Comics in 2005. McCrea drew the first three issues, the fourth being drawn by Will Volley. This series was collected as Antoine Sharp: The Atheist - Incarnate by Desperado Publishing in 2008.
The second miniseries, in which Anoine Sharp investigates a town in South Carolina where newlywed brides go missing, was drawn by Kevin Mellon, published by Desperado Publishing in 2008, and collected as Antoine Sharp: The Atheist Volume 2 in 2009.
References
Edit
Online reference
Edit
Ad blocker interference detected!
Wikia is a free-to-use site that makes money from advertising. We have a modified experience for viewers using ad blockers

Wikia is not accessible if you've made further modifications. Remove the custom ad blocker rule(s) and the page will load as expected.