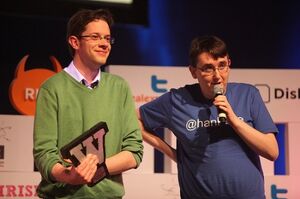 The Comic Cast is an Irish Podcast about comics - both superhero (Marvel, DC, Image, etc) and indy (Fantagraphics, Drawn and Quarterly, Top Shelf, etc). Hosted by Craig O'Connor and Liam Geraghty, the show comes out fortnightly alternating between comics news and discussion and interviews with mainly Irish comic artists, writers and designers.
The Comic Cast won Best Independent Podcast in the 2011 Irish Web Awards in a ceremony held in the Mansion House, Dublin, on 22 October 2011.
External links
Edit
Ad blocker interference detected!
Wikia is a free-to-use site that makes money from advertising. We have a modified experience for viewers using ad blockers

Wikia is not accessible if you've made further modifications. Remove the custom ad blocker rule(s) and the page will load as expected.