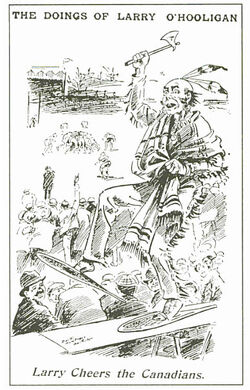 The Doings of Larry O'Hooligan was a single panel cartoon that ran in Belfast sports newspaper Ireland's Saturday Night, created in 1898 by Matt Sandford. It was drawn by number of artists, the last two of whom were George Lemon and W. H. Conn. It was finally dropped in 1961.
Ad blocker interference detected!
Wikia is a free-to-use site that makes money from advertising. We have a modified experience for viewers using ad blockers

Wikia is not accessible if you've made further modifications. Remove the custom ad blocker rule(s) and the page will load as expected.