By Geraldine Gittens, Evening Herald, 22 October 2009
The Easter Rising as you've never seen it before - as a comic
Edit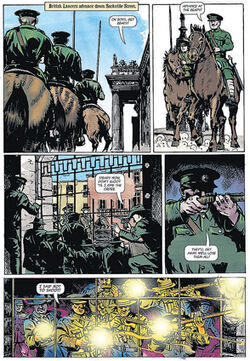 The 1916 Rising has been immortalised for the first time in a graphic novel by a Dublin artist whose father was involved in the rebellion.
Gerry Hunt (73), from Phibsboro, Dublin, has written a colourful comic story about the famous revolt, which saw Irish rebels fight the British army around Dublin landmarks such as the GPO.
"My father was involved in Boland's Mills with De Valera in 1916 and he was also in the War of Independence, so it's something I had heard a lot about," he told the Herald.
"We decided on 46 pages which is a very, very small amount of pages. So much happened in 1916, and it really was a question of leaving things out."
But Hunt's new book, Blood Upon The Rose, chooses the main action from the story of the Rising, and he brings it alive with comic drawings of characters like De Valera and Joseph Plunkett.
"I would have loved to do more on the romance between Joseph Plunkett, who was dying with TB, and Grace Gifford, who he married before he was executed," he said.
"They [the rebels] were heroic sort of people. They were very badly armed and they only had shotguns against the British who had handguns. It was all about the ambush and catching the British out in the open."
Hunt took early retirement 10 years ago as an architect in the IDA and decided to become a graphic novelist, which had always been his life dream. Dublin's history is also something that has always been close to his heart. "I just decided to concentrate on the action. I tell everyone that I'm not a writer, I'm an artist."
Gerry works by simply drawing his characters first with a pencil, and then he "inks in" all his pictures.
Brendan B, an award-winning cartoonist focused on the colours and the lettering for the book.
"There's loads of action. It's a short tale that covers most of the events that are worth covering. It's been out for the last week and it's going good."
Gerry is now writing a new book about the 'undead' in Dublin, when the Vikings come to life in the present day.
Gerry will sign copies of Blood Upon the Rose: Easter 1916 in Chapters Bookshop, Parnell Street, at 3pm this Saturday, October 24.
Ad blocker interference detected!
Wikia is a free-to-use site that makes money from advertising. We have a modified experience for viewers using ad blockers

Wikia is not accessible if you've made further modifications. Remove the custom ad blocker rule(s) and the page will load as expected.