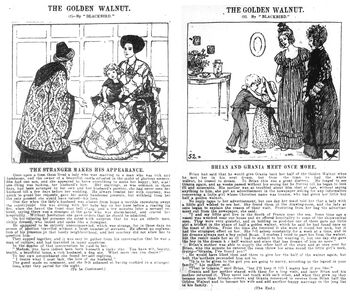 The Golden Walnut was an illustrated children's serial by "Blackbird" that ran every Monday in the Belfast Telegraph from 5 January to 28 December 1925. It featured two children, Brian and Grania, who didn't know each other in real life, but met in their dreams to search for a golden walnut, meeting magical creatures and national stereotypes along the way.
Ad blocker interference detected!
Wikia is a free-to-use site that makes money from advertising. We have a modified experience for viewers using ad blockers

Wikia is not accessible if you've made further modifications. Remove the custom ad blocker rule(s) and the page will load as expected.