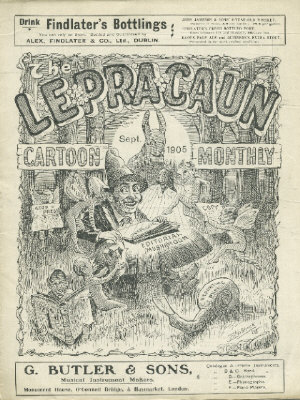 The Lepracaun Cartoon Monthly was an Irish satirical magazine founded by cartoonist Thomas Fitzpatrick in 1905, which lasted until 1919. Other contributors included James Joyce, who wrote short pieces and supplied ideas for cartoons, John Fergus O'Hea, and Fitzpatrick's daughter Mary Fitzpatrick O'Brien, who took over the magazine from her father's death in 1912 until 1919.
References
Edit
Ad blocker interference detected!
Wikia is a free-to-use site that makes money from advertising. We have a modified experience for viewers using ad blockers

Wikia is not accessible if you've made further modifications. Remove the custom ad blocker rule(s) and the page will load as expected.