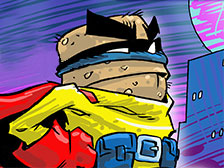 The Mundane Overrated Misadventures of Spudman is a spoof superhero webcomic about a man who wakes up to find himself turned into a potato, by writer Rory McConville, artist Nacho Fernandez and colourist/letterer Allen Freeman, which appeared on DC's webcomic competition site Zuda in 2007. It is now available as a 55 page book.
External links
Edit
Ad blocker interference detected!
Wikia is a free-to-use site that makes money from advertising. We have a modified experience for viewers using ad blockers

Wikia is not accessible if you've made further modifications. Remove the custom ad blocker rule(s) and the page will load as expected.