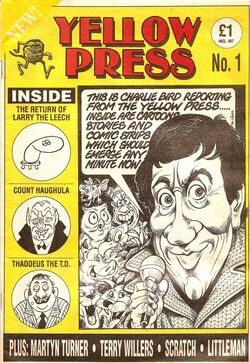 The Yellow Press was a comics anthology published in Dublin from 1991 to 1994. Billed as an "uplifting periodical for young and old alike", It was edited by Gerard Crowley and Willy Brennan.
Featured strips included:
Other contributors included Arja Kajermo, Billy Drake, Brendan O'Brien, Martyn Turner, Clay Bennett, Jon Berkeley, Jim Carroll, Phelim Connolly, Clyde Delaney, Hunt Emerson, Will Eisner, Russel Garet, Martin Honeysett, Graeme Keyes, Ian Knox, Aoibheann Lambe, Graham Linehan, Arthur Matthews, Mike McCarthy, Cian Molloy, Niall Murphy, Barbara Nolan, Maurice O'Brien, Palomo, Donal Scannell, Sharkey, John Waters and Terry Willers, among others.
External links
Edit
Online reference
Edit
Ad blocker interference detected!
Wikia is a free-to-use site that makes money from advertising. We have a modified experience for viewers using ad blockers

Wikia is not accessible if you've made further modifications. Remove the custom ad blocker rule(s) and the page will load as expected.