Ad blocker interference detected!
Wikia is a free-to-use site that makes money from advertising. We have a modified experience for viewers using ad blockers

Wikia is not accessible if you've made further modifications. Remove the custom ad blocker rule(s) and the page will load as expected.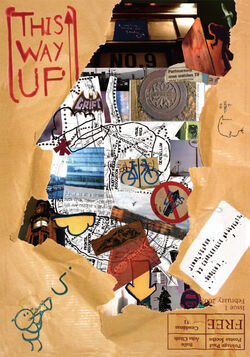 This Way Up is a three-issue collaborative comic series published between 2004 and 2006. The plot, by Chris Fite-Wassilak and Kate McLarnon, followed several characters as they go about their lives in Dublin, each issue concentrating on one character and how they come into contact with the others. Portions of the story were visualised by a variety of artists in styles including manipulated photos and collage as well as traditional drawn or painted illustrations. All three issues are available to be downloaded from Chris Fite-Wassilak's website.
The first issue, published in February 2004, introduced us to novel Postman Jimmy and his silent interaction with the walls of Dublin. Artists were:
The second issue, published in July 2005, depicted the soundings of Radio Pirate Declan. Artists were:
The third issue was published in June 2006, and concentrated on the compulsive Postmaster Raymond, and his encounter with the infamous Engineer Declan. Unlike the previous two issues, which was structured in complete pages, this issue has narrative strands occupying the same space on a sequence of pages, the top tier of each page always focusing on Raymond. Artists were:
External links
Edit