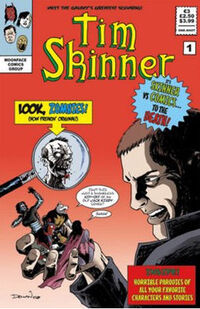 Tim Skinner: Total Scumbag is a one-shot superhero parody comic written by Andy Winter, drawn and coloured by Declan Shalvey, and published by Moonface Press in 2008. The title character has a magic comic collection whose universes he can enter and interact with - but because he's a total scumbag, his interactions are generally malicious - until he gets stuck in the comic universe and discovers he's pissed off a few superheroes too many.
External links
Edit
Ad blocker interference detected!
Wikia is a free-to-use site that makes money from advertising. We have a modified experience for viewers using ad blockers

Wikia is not accessible if you've made further modifications. Remove the custom ad blocker rule(s) and the page will load as expected.