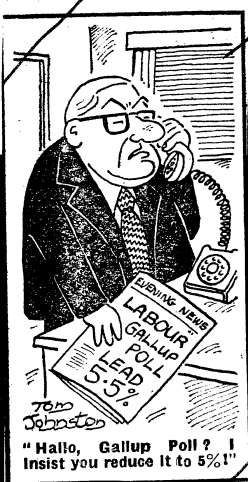 Tom Johnston (b. Belfast, 18 May 1953) is a political, gag and strip cartoonist. He has played bass in rock bands, including The The, whom he also managed.
He was educated at Leeds Art College and the University of London, and sold his first cartoon to the Daily Mirror in 1976. Most of his early cartoons appeared in music magazines like Melody Maker, Sounds and Smash Hits. In the late 1970s he worked for The Evening News and the London Evening Standard. He joined The Sun in 1981. By 1989 he estimated he was drawing 32 cartoons a week.
In 1992 he became The Sun's political cartoonist, and moved to the Daily Mirror as their political cartoonist in 1996. He has also worked for Today (including the strip "The Yuppies"), the News of the World (including the strip "Short John Silver"), Punch and Private
References
Edit
Ad blocker interference detected!
Wikia is a free-to-use site that makes money from advertising. We have a modified experience for viewers using ad blockers

Wikia is not accessible if you've made further modifications. Remove the custom ad blocker rule(s) and the page will load as expected.