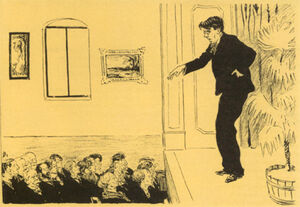 Tom Lalor was a cartoonist who drew a weekly half-page cartoon for D. P. Moran's Leader from 1912 to 1923, with rhyming commentary by journalist John Swift under the pseudonym "AMW". After Swift's death, Lalor contributed occasional cartoons until 1937. He was also involved in poster campaigns for the Irish Independent in the early 1930s.
References
Edit
Ad blocker interference detected!
Wikia is a free-to-use site that makes money from advertising. We have a modified experience for viewers using ad blockers

Wikia is not accessible if you've made further modifications. Remove the custom ad blocker rule(s) and the page will load as expected.