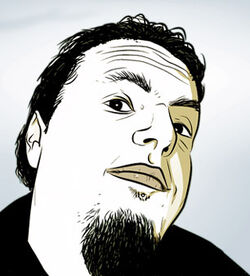 Tommie Kelly (b. Dundalk, 25 July 1977) is a writer-artist and musician based in Ardee, County Louth.
His earliest work includes the unfinished, and now defunct, webcomic The End (2006-2007), a post-apocalyptic murder mystery, and unpublished comics including No Irish, about an Irish family divided by politics and paramilitary activism, How I Became an Online Assassin in Ten Easy Lessons, with American writer Jaime Ramos, and Disco Sucks, Fuck Everything with American comedian and writer Cody Hess.
He is the creator of the webcomic Road Crew, a humour strip (loosely) based on his experiences as a roadie and sound engineer for rock bands, which ran from 2008 to 2010. Two collections, "Electric Ladyland" (2009) and "Nothing's Shocking" (2010), have been published, and "The Complete Road Crew" is in the works. In 2010 the strip took a more serious turn, away from gag-a-day strips to an ongoing narrative, "For Sale", which was moved to its own site, entitled From Rags to Rockstars. A 52 page print edition has been published. From April to August 2010 he published the cynically humourous daily webstrip Something Wonderful.
From April to July 2011 he published a weekly single panel webcomic, Moments. Also in April 2011, he published the pilot issue of a science fiction comedy, Down, which continued into the first issue of a pdf anthology, Tommie Kelly Presents, along with the continuation of Road Crew, and a preview Joe the Janitor by Viv Duignan. In June 2011 he launched the Irish Comic News website as editor-in-chief, where he has been serialising the continuation of Road Crew since October. In 2012 he launched a new digital series, The Holy Numbers.
His collaboration with writer Andy Winter, Mongo, Music Critic, is available as a pdf download from Moonface Press. Future projects include Mankind and Reflections with writer DJ Singh. He has also created illustrations for an exhibition on Arctic explorer Leopold McClintock at Dundalk Museum.
External links
Edit
Ad blocker interference detected!
Wikia is a free-to-use site that makes money from advertising. We have a modified experience for viewers using ad blockers

Wikia is not accessible if you've made further modifications. Remove the custom ad blocker rule(s) and the page will load as expected.