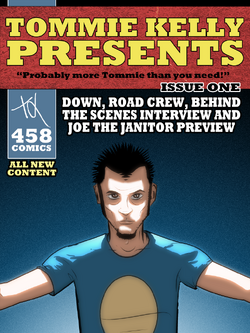 Tommie Kelly is an anthology published electronically as a downloadable pdf by Tommie Kelly in 2011. It featured new episodes of Tommie's Road Crew and Down and a behind-the-scenes interview, as well as the opening episode of Joe the Janitor by Viv Duignan. Sales were disappointing and Tommie has returned to serialising Road Crew on the web.
External links
Edit
Ad blocker interference detected!
Wikia is a free-to-use site that makes money from advertising. We have a modified experience for viewers using ad blockers

Wikia is not accessible if you've made further modifications. Remove the custom ad blocker rule(s) and the page will load as expected.