Ad blocker interference detected!
Wikia is a free-to-use site that makes money from advertising. We have a modified experience for viewers using ad blockers

Wikia is not accessible if you've made further modifications. Remove the custom ad blocker rule(s) and the page will load as expected.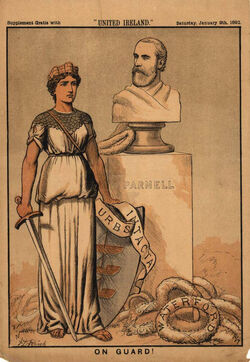 The United Ireland was a newspaper founded by Charles Stewart Parnell and published from 1881 to 1896. Following the trend started by the Weekly Freeman, it carried a weekly colour political supplement, printed in color by chromolithography on card. Its cartoonist was J. D. Reigh.
1881 | 1882 | 1883 | 1884 | 1885 | 1886 | 1887 | 1888 | 1889 | 1890 | 1891 | 1892 | 1893 | 1894 | 1895 | 1896