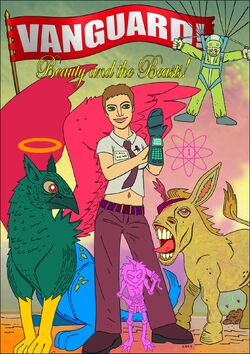 Vanguard is a anthology comic written and published by Dirk Van Dom.
The first issue was published in 2011. Contents are:
The second issue was published in March 2012. Contents are:
Cover by David Blankley
"Atomic Call: International Woman of Mystery", drawn by David Blankley, lettered by Jim Campbell
"Halo and the Gryphon", drawn by Louis Carter
"Mammoth Jack", drawn by El Chivo, lettered by Owen Watts
"Tucker", drawn by Bhuna
"Redbats", drawn by David Withers
External links
Edit
Ad blocker interference detected!
Wikia is a free-to-use site that makes money from advertising. We have a modified experience for viewers using ad blockers

Wikia is not accessible if you've made further modifications. Remove the custom ad blocker rule(s) and the page will load as expected.