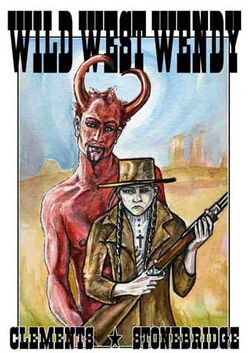 Wild West Wendy is a 24-page supernatural western comic written by Richmond Clements and drawn by Vicky Stonebridge, about a teenage Baptist preacher bringing "Godliness" and hangings to the wild west. She first appeared in the anthology Action Stations! in 2005, and got her own title in 2006, in which, to save her immortal soul, Wendy journeys into the wilderness for 40 days and 40 nights.
External links
Edit
Ad blocker interference detected!
Wikia is a free-to-use site that makes money from advertising. We have a modified experience for viewers using ad blockers

Wikia is not accessible if you've made further modifications. Remove the custom ad blocker rule(s) and the page will load as expected.