Ad blocker interference detected!
Wikia is a free-to-use site that makes money from advertising. We have a modified experience for viewers using ad blockers

Wikia is not accessible if you've made further modifications. Remove the custom ad blocker rule(s) and the page will load as expected.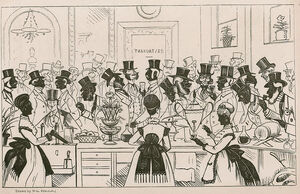 William S. (Billy) Brunton, was born in 1833 in Dublin, son of a an engraver and copper-plate printer. He studied at the drawing school of the Royal Dublin Society from 1847, and exhibited figure paintings at the Royal Hibernian Academy in 1854 and 1856.
He moved to London to work as a magazine illustrator and cartoonist, contributing to Punch (1859), The Illustrated Times (1861, 1866), London Society (1863, 1865, 1968), Tinsley's Magazine (1867), Cassell's Illustrated Readings (1867), The Broadway (1867-74) and Moonshine (1871), and was on the staff of Fun, where he contributed regular observational comic sketches. He also illustrated children's books, including Tales at Tea-Time by E. H. Knatchbull-Hugessen (1872). He signed his work with a heart pierced by an arrow, made with the letters W and B.
He was a Bohemian and a founder of the Savage Club, apparently a very jovial man with an odd but infectious sense of humour, and died young, the implication being from his excesses, in Holloway, London, on 24 March 1878.
External links
Edit
References
Edit
Walter G. Strickland, A Dictionary of Irish Artists, 1913
George and Edward Dalziel, The brothers Dalziel; a record of fifty years' work in conjunction with many of the most distinguished artists of the period, 1840-1890, 1901, pp. 314-316
"A Journalist", Bohemian Days in Fleet Street, 1913 pp. 31-32
William Tinsley, Random Recollections of an Old Publisher, 1900, pp. 118-119
Simon Houfe, The Dictionary of 19th Century British Book Illustrators, Antique Collectors' Club, 1996, p. 80