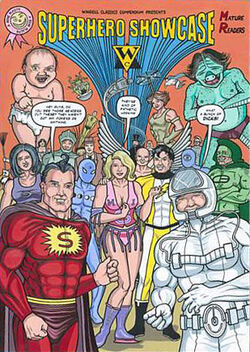 Windell Comics is a the publisher of comics by Gar Shanley and Cathal Duggan, purporting to be a comics publisher of many decades' standing.
Their first comic, Superhero Showcase (2009), purports to be a compendium of superhero stories from the long history of Windell Comics. Supernatural Showcase followed in December 2010. Gar, Cathal and Richard O'Shea also make Windell short animations.
External links
Edit
Ad blocker interference detected!
Wikia is a free-to-use site that makes money from advertising. We have a modified experience for viewers using ad blockers

Wikia is not accessible if you've made further modifications. Remove the custom ad blocker rule(s) and the page will load as expected.