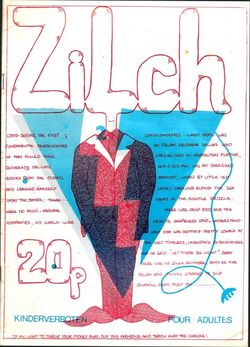 Zilch was a comic zine published through ABC Books in Talbot Street, Dublin. Al least two issues were published, issue two in March 1980. The editorial/layout team were Gerry McCarthy, Dec Tracey and John Hackett, and contributors included Ian McColl, Grace O'Reilly, Dave Shields, Marty Moore, Paul Ringrose, John Hackett, Michael Arbuckle and Dec Tracey.
References
Edit
Ad blocker interference detected!
Wikia is a free-to-use site that makes money from advertising. We have a modified experience for viewers using ad blockers

Wikia is not accessible if you've made further modifications. Remove the custom ad blocker rule(s) and the page will load as expected.