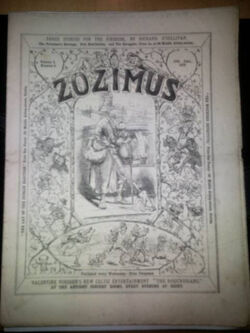 Zozimus was a weekly satirical magazine published in Dublin from May 1870 to August 1872 by A. M. Sullivan. It was named after the pseudonym of a popular ballad singer, Michael Moran. Its editor and chief writer was Richard Dowling. Its chief artist, who drew most of the cartoons and covers, was John Fergus O'Hea. His first cover depicted the ballad singer Zozimus chasing the emblem characters of the English magazines Punch, Judy, The Tomahawk and Fun out of Ireland. Harry Furniss and Wallis Mackay also contributed cartoons and illustrations. After it founded, O'Hea, Dowling and Edwin Hamilton founded another magazine, Ireland's Eye. Dowling and Furniss went on to found Yorick.
References
Edit
B. P. Bowen, "Dublin Humourous Periodicals of the 19th Century", Dublin Historical Record Vol 13 No 1, 1952, pp. 2-11
Ad blocker interference detected!
Wikia is a free-to-use site that makes money from advertising. We have a modified experience for viewers using ad blockers

Wikia is not accessible if you've made further modifications. Remove the custom ad blocker rule(s) and the page will load as expected.